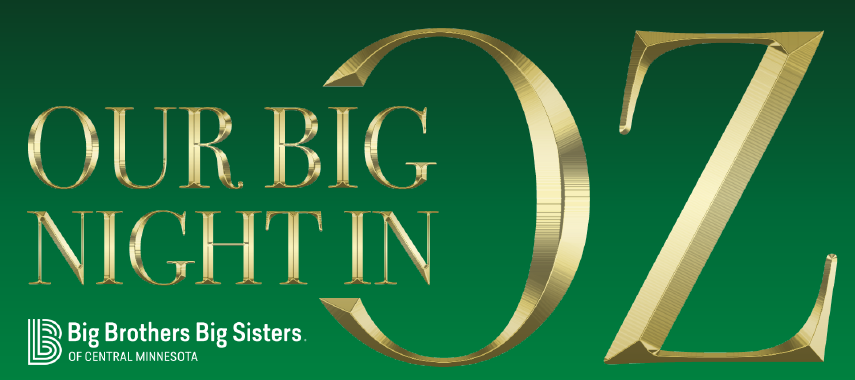 ST. CLOUD, MN (June 30, 2020) –
Big Brothers Big Sisters of Central Minnesota hosts a well-attended spring gala each year, which is the local mentoring agency's largest annual fundraiser. For the first time ever, the mentoring program was unable to hold its annual spring gala in its typical format, due to health & safety precautions related to COVID-19. Not wanting to fully cancel an event that is integral to the program, Big Brothers Big Sisters staff, event co-chairs Rick and Aleen Roehl, and committee members quickly restructured the event into a virtual format including an online auction and Facebook live raffle drawing. The virtual gala raised nearly $180,000 for Big Brothers Big Sisters.

In addition to providing funding for the mentoring program, the gala also raises awareness of the community's need for mentors. This year, the High School Bigs program was featured, which pairs Central Minnesota high school students with youth in their school district. The mentoring matches spend time together each week, at the child's school. Big Brothers Big Sisters offers school-based mentoring programs in the St. Cloud, Sauk Rapids, Sartell, Foley, and Pierz school districts.

Isaih Handy accepted the 2020 BriAnna Kruzel Growing Up Big Award, which honors BriAnna Kruzel, a former Little Sister and High School Big Sister who passed away in September of 2013. Giving back is a sentiment echoed throughout Isaih's life. He is in the army and is currently deployed. In addition to serving his country, he is an active and valued community member. Isaih volunteers for the United Way, serves on Big Brothers Big Sisters' Program Advisory Committee, and coaches youth lacrosse. Isaih epitomizes the spirit of the award, which is to carry on the legacy of kindness and generosity BriAnna exemplified in her short but rewarding life.

The event's presenting sponsors were: Anderson Trucking Service, Marco, and Vince & Lori Mohs.

Big Brothers Big Sisters of Central Minnesota provides mentoring services at no cost to families, youth, and mentors. All proceeds from the gala help fund Big Brothers Big Sisters' youth mentoring program benefiting local children who are facing unique challenges.  
Currently, there are over 100 children in Central Minnesota that are waiting for a Big Brother, Big Sister, Big Couple, or Big Family. To learn more about becoming a friend to a child in need, or to make a donation, call (320) 253-1616 or visit www.BigDefenders.org.