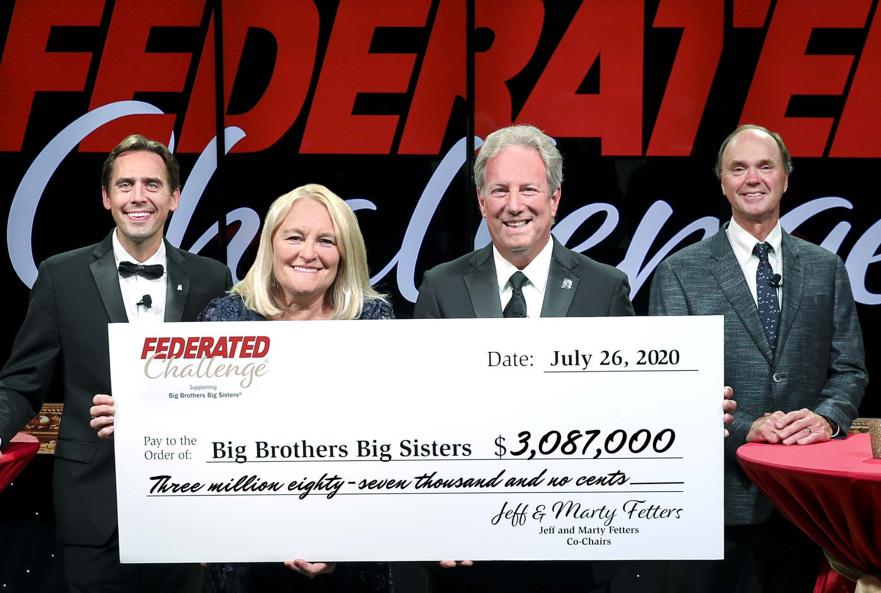 The 2020 Federated Challenge raised a record-breaking $3.087 million for Big Brothers Big Sisters July 26, during its first-ever virtual gala. Even during this unprecedented time in history, a record 61 prominent businesses and more than 500 attendees logged on to their computers and mobile devices to support youth mentoring in Minnesota and throughout America.
One hundred percent of the money raised will be donated to Minnesota's three Big Brothers Big Sisters agencies and Big Brothers Big Sisters of America. Locally, the donation from Federated Insurance provides 40% of Big Brothers Big Sisters of Central Minnesota's budget, with the rest coming from grants, sponsorships, and individual donations.
"We knew in our hearts that cancelling this year's event was not an option," said Federated Insurance Chairman and CEO Jeff Fetters. "And that decision became more significant this year than ever before, as many kids have been patiently waiting to be matched with a Big. Sunday's event set that in motion – opening the door to create strong bonds and long-lasting friendships."
A portion of the donations are earmarked for the Federated Challenge Scholarship Program, which provides up to $5,000 per year to qualified Littles or high school Bigs enrolled in a non-four-year program focusing on apprenticeship, certificate, trade school, technical, or community college. Since the program's inception, close to 100 students have benefited from the scholarship fund and are earning job-ready training degrees with little to no debt.
"Remarkable times call for remarkable people, and our generous Federated Challenge corporate sponsors and individual donors have answered that call," said Fetters. "We may have been apart, but we still came together to help Big Brothers Big Sisters matches ignite potential."
The virtual gala – hosted by Co-chairs Jeff and Marty Fetters – featured WCCO veteran broadcaster Dave Lee. The event included special messages from members of the Minnesota Gophers athletic department, Minnesota United Football Club, and Minnesota Timberwolves. Guests also heard mentoring success stories from Bigs & Littles including a powerful mentoring story from former Little Brother Isaih Handy, of St. Cloud.
"Collectively, the funds we raised during this event will directly support countless young people," added Fetters. "The Federated Challenge continues to be a first-class event, whether it's held in person or virtually. Most importantly, it continues to rally people around a cause that empowers youth and strengthens communities. Big Brothers Big Sisters' mission is one we proudly stand behind."
The Federated Challenge was founded in 2004 as a two-day fund-raising event hosted by Federated Insurance, a commercial insurance company headquartered in Owatonna, Minnesota. Now in its 16th year, this event has raised more than $41 million for youth mentoring programs.
"We cannot thank Jeff and Marty Fetters, Co-Chairs of the Federated Challenge, Federated Insurance, and all those who support the event, enough. We are profoundly grateful for their ongoing partnership and support, which makes it possible for us to carry out our mission of creating and supporting one-to-one mentoring relationships that ignite the power and promise of youth." noted Jackie Johnson, Executive Director of Big Brothers Big Sisters of Central Minnesota.
To learn more about Big Brothers Big Sisters of Central Minnesota, visit BigDefenders.org. To get involved in the Federated Challenge, visit FederatedChallenge.org.