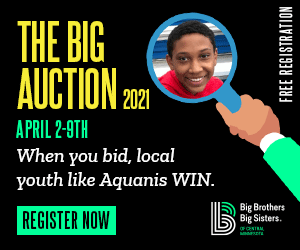 ST. CLOUD, MN (March 8, 2021) –
This spring, Big Brothers Big Sisters of Central Minnesota will be hosting an online fundraiser, The Big Auction. This robust silent auction is filled with incredible items like a Pleasureland R.V. Rental, a season of lawn care, and a catered pig roast. Registration is free and open to the public. Mobile bidding will take place from April 2nd-April 9th.
Big Brothers Big Sisters will also be holding a raffle with cash prizes ranging from $100-$1,000. Raffle tickets are $10 each.
Media sponsors for this event are: DAYTA Marketing, Leighton, St. Cloud Times | Local iQ, and Lamar.
Big Brothers Big Sisters of Central Minnesota provides mentoring services at no cost to families, youth, and mentors. All proceeds from The Big Auction & raffle help fund Big Brothers Big Sisters' youth mentoring program benefiting local children who are facing unique challenges.
To register for The Big Auction, or donate an item, please visit BigDefenders.org. Raffle tickets can be purchased by calling (320) 253-1616.