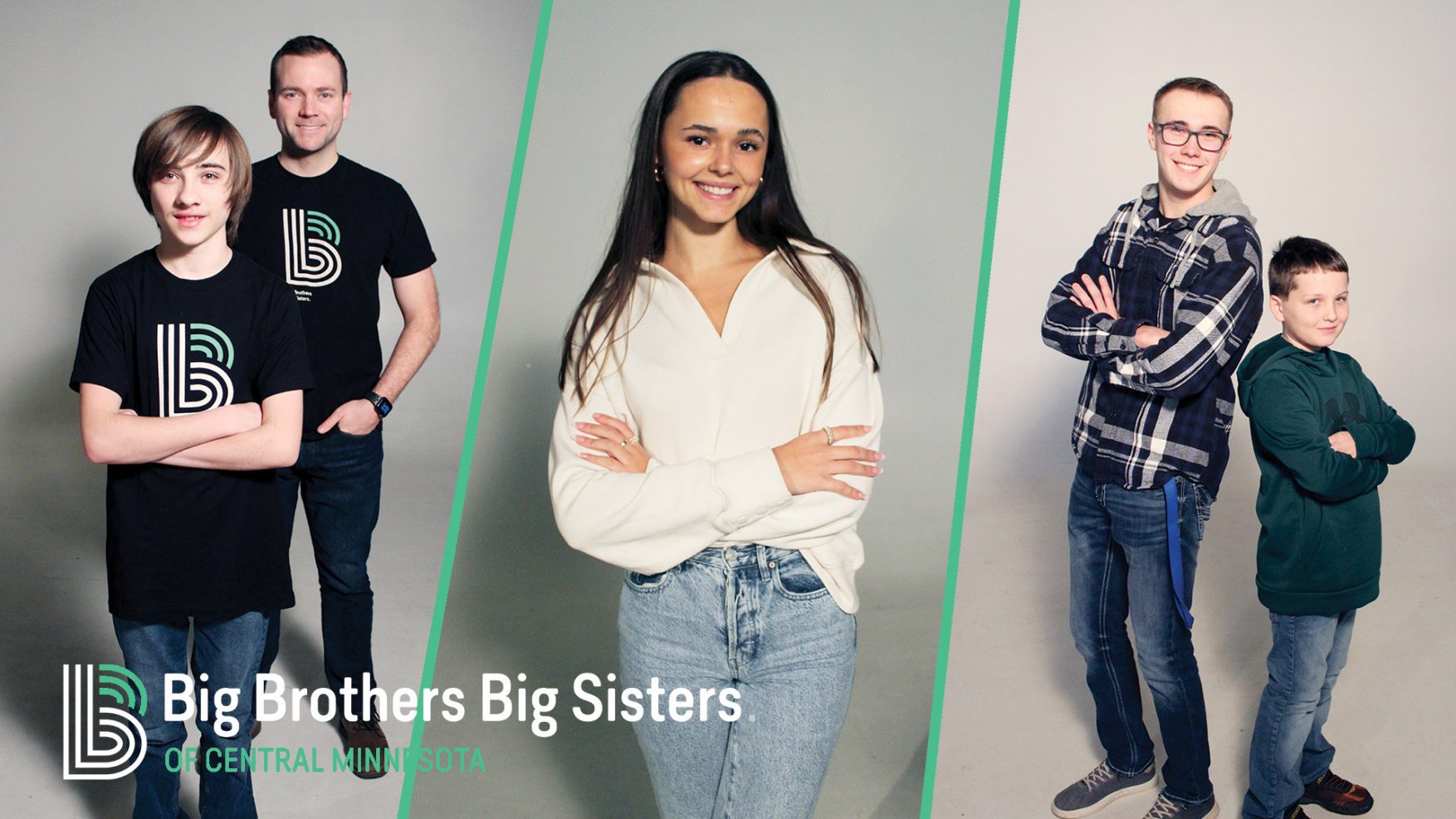 Nate Molitor, Olivia Bauerly and Matthew Rothfork earned State Big of the Year honors in 2023
ST. CLOUD, Minn. – Earlier this spring, Big Brothers Big Sisters of Central Minnesota announced its 2023 Bigs and Littles of the Year. The list included seven mentors and mentees from around the area, selected for their dedication to their Little (mentee) and the progress they have made while a part of the program. Now, three of those area mentors have been recognized at the state level.
Nate Molitor is the 2023 Minnesota Big Brother of the Year, Matthew Rothfork is the 2023 Minnesota High School Big Brother of the Year and Olivia Bauerly is the 2023 Minnesota High School Big Sister of the Year. This marks the second straight year that both the High School Big Brother and High School Big Sister have hailed from Central Minnesota. The trio were selected as state recipients from a group of mentors from the Central Minnesota, Twin Cities and Southern Minnesota BBBS agencies.
Molitor, a St. Joseph resident, was selected for his dedication to the match with his Little, Justin. They have been matched for more than four years, and along with going on fun outings, Nate and Justin volunteer at area events, and Nate has been teaching Justin valuable life skills like mowing the lawn, fixing small appliances, and shopping on a budget.
"I wanted to be a big brother because I feel like throughout my life I've had some phenomenal role models and have been fortunate in that and thought that this would be a cool opportunity to hopefully make a difference on somebody else," Nate said.
Matthew is a senior at Foley High School, and he has been matched with his Little, Gavin, for two years. Gavin is quiet and reserved, and had trouble expressing himself to others when he and Matthew were first matched. But Matthew has been patient, and little by little he's seen Gavin come out of his shell. Now, Gavin lights up whenever he sees Matthew walk into his classroom, and the two enjoy playing games together.
"(Being a Big has) helped me to see how I can help others," he said. "It's so cool to see what impact you can have on somebody else and how you can make them feel way better throughout their day."
Olivia, a senior at St. Cloud Cathedral High School, was looking for a way to give back to her community, and decided on Big Brothers Big Sisters after talking with family members – several of whom have also volunteered with the program. She was matched with Aubrey two years ago. Their match started virtual due to COVID, but Olivia and Aubrey met and built a relationship. That relationship was strengthened when they could finally meet in person – but it has since gone back to virtual when Aubrey moved with her family this year.
Though they can't meet in person, Olivia continues to come up with activities for the two to do together on Zoom, and she has helped Aubrey become more confident.
"There's so many different fun people in the community – people I didn't know with different personalities and stories to tell," Olivia said of her time with BBBS. "(Being a Big) made me want to learn more about people and be more open to everybody and learn from their stories and what they have to offer."
As the state Big Brother of the Year, Nate moves on to represent Minnesota at the national competition. Winners for national Bigs and Littles of the Year will be announced at the 2023 conference in California this summer.
Big Brothers Big Sisters of Central Minnesota currently has more than 100 children waiting for a mentor, including children at all six school-based sites. To learn more about the various mentorship options or to find out how you can make a difference in the life of a child, please call (320) 253-1616 or visit BigDefenders.org/ways.