A MESSAGE FROM OUR EXECUTIVE DIRECTOR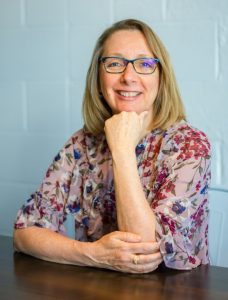 May 2022
Hello Friends!
As we round the corner into spring, for us in Minnesota, that means above 30 degrees, it is always a time to reflect on the school year. It brings back memories of my siblings, graduations, my graduation, my son's, etc. At the time of my graduation, I felt the anxious anticipation of my world that was about to become so much bigger…and it did. I moved from a farm in Buckman to a small house in Brainerd to live with three of my girlfriends. Two years later, I moved to St. Cloud. I was scared, seems silly now, but based on my frame of reference, it was a whole lot bigger with many unknowns. I don't know if I would have been able to make it without the encouragement of others.
My sister Mary, a fellow Husky, who was always a mentor to me, would remind me "no one can ever take your education away from you". I also had some teachers who were very encouraging, including my advisor, Frank Osendorf. Those touch points of someone else believing in me was absolutely the difference between feeling like I would fail versus accomplishing what I set out to do. 
For us at Big Brothers Big Sisters, this is a very special time of year too. Our Littles tell us that having a Big who believes in them, being a part of our program, and knowing donors give generously because of them, is what helps them accomplish their goals and pursue their dreams.
This spring, we will have graduating Bigs & Littles in both high school and college.

We celebrate these accomplishments with our Littles, families, and Bigs.

Thanks to the generosity of the Federated Challenge and WWBD, we are geared to award exclusive scholarships to students to further their career.

We are able to keep matches together to offer them our coaching and support through age 21, up from age 18.
Thank you for your generosity of time, talent, and treasure. It is THE difference.
Jackie Johnson
Executive Director
BIG TIMES MONTHLY NEWSLETTER
Click on the links below and catch up on the latest news from Big Brothers Big Sisters of Central Minnesota!