A MESSAGE FROM OUR EXECUTIVE DIRECTOR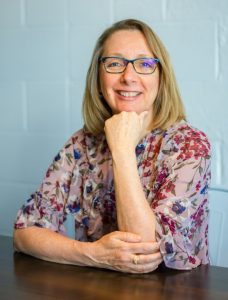 August 2022
Hello Friends!
"Bloom where you are planted" wasn't just one of Marty Fetter's favorite sayings, it was also a guiding principal of her life. Marty and her husband Jeff began hosting the annual Federated Challenge for Kids fundraiser in 2013. Marty passed away in December 2021 and continues to inspire us.
Their shared passion for youth mentoring started early on, when they signed up to be a Big Couple through Big Brothers Big Sisters. They were matched with Mackenzie when she was just 11 years old. At the recent 2022 Federated Challenge, Mackenzie shared that she often reflects on her time with Jeff and Marty. With them, she learned the love of cooking and serving. This led to her becoming a trained professional chef. One never knows how sharing something simple, like a hobby or interest, can plant the seeds that inspire someone to blossom. We hear this all the time from our adult Littles. "My Big taught me how to make a picnic table" turned a Little into a carpenter. "My Big taught me how to start a lawn mowing service in my neighborhood" turned a Little into the owner of a property management company. We are often reminded of our mentors as we go through our everyday lives, putting to use what we learned from them.
This year's Federated Challenge raised a record-breaking $3.8M for the MN BBBS programs and the national BBBS office. We couldn't be more grateful for Jeff Fetters, Federated Insurance Chairman and Event Chair, Julie Rethemeier, vice president – director of Public Affairs and Advertising at Federated Insurance and Master of Ceremonies, and the team at Federated, for making this a truly incredible event and partnership. This dedication to funding our agency has allowed us to imagine the possibilities of serving more kids, providing up to $50,000 in scholarships to our Littles and High School Bigs, and expanding our service areas. 
Until next time, "Bloom where you are planted."
Jackie Johnson
Executive Director
BIG TIMES MONTHLY NEWSLETTER
Click on the links below and catch up on the latest news from Big Brothers Big Sisters of Central Minnesota!