Sports Buddies Needed!
Want a fun and easy way to make a BIG difference in the life of a Little? Be a Sports Buddy!

Sports Buddies is a fun way to mentor through participating and spectating sports.
In this initiative, one-to-one mentoring friendships between an adult and youth are formed while engaging in athletics.
Bigs make a 6-month commitment with the option to continue their match after the 6-month mark. They will attend 1-2 events per month organized by BBBS staff.
Activities will be about two hours long and primarily on a Tuesday or Thursday evening, but this will depend on the activity. A 6-month calendar will be provided.
The Big will only spend time with their Little at BBBS Sports Buddies events or at BBBS agency-sponsored activities.
The Little's family is responsible for coordinating transportation to and from activities.
The BBBS Program Coordinator will conduct all scheduling and communication between Big, Little, and Little's family.
Sports Buddies is a great way to mentor and build community with other matches that love sports!

Let the games begin.
PHONE 320.253.1616   EMAIL SportsBuddies@BigDefenders.org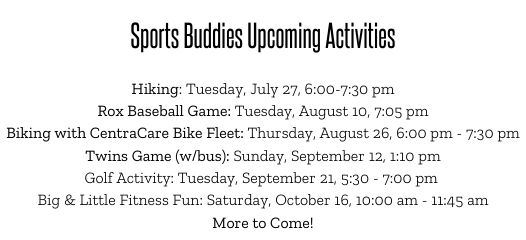 Check out the Little Big Virtual Academy!
We are working hard to #KeepKidsConnected!  Our new Little Big Virtual Academy keeps Littles and Bigs connected during times of physically distancing.
We've compiled a list of fun and interactive activities and resources for Littles and Bigs to do together- check it out!